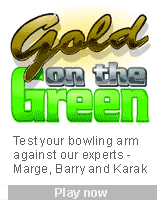 Melbourne 2006
Gold on the Green
Recall the spirit of the Melbourne 2006 Commonwealth Games by playing our interactive lawn bowls game.
It will give you the chance to practice your best moves in one of the Games' increasingly popular sports.
But it's not as easy as just clicking on the mouse to bowl. You'll need to take into account the strength and angle of your bowl, as well as the all-important wind factor when stepping up to the mark.
Before you start playing, you'll need to select characters (you can be Marge, Barry or Karak, the Melbourne 2006 Commonwealth Games Official Mascot) and countries for both yourself and the computer. Once you are ready to place your first bowl, have a read of the rules (see 'View Game Rules' at the bottom of the game screen) to ensure you know how to play. Then get ready to achieve Gold on the Green! For a more detailed version of the rules of lawn bowls, see the Bowls Australia website.
Please note, the high score leader board of this game is now closed. You will be able to play the full game but unable to submit your scores to the leader board.